If I see that bridgeThat is spanned by flights of magpiesAcross the arc of heavenMade white with a deep-laid frost,Then the night is almost past.
Calling all poets and traditional artists!
CRLiterature
,
TraditionalDeviants
, and
traditionalmedia
have teamed up for a little challenge to get the literature and traditional art communities working side-by-side. Sound fun?

(We considered calling this 'I am a rebel and not doing National Novel Writing Month', but if you want to tackle both, who are we to stop you?

And if you're doing NaNoDrawMo, maybe you can combine the two!)
How it works
:

We give you a prompt.

You make a poem or illustration based on that prompt.

We feature your submission.
We'll be featuring entries in journals and group folders. Easy-peasy, and it gets you exposure to another community who wouldn't normally see your work!
What's the prompt?
Choose a poem from the OHI to use as your inspiration. You will
NOT
be working with a partner – this is just a group of people doing individual work side-by-side – so the choice is all yours. If you're curious about the anthology's significance and connection to visual art, read on. If you're impatient, skip to
Instructions
below.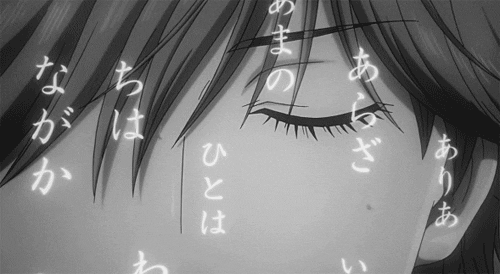 Ancient Japan
Like a mariner
Sailing over Yura's strait
With his rudder gone:
Where, over the deep of love,
The end lies, I do not know.
Historically, writers often wrote tanka (short poems) to each other instead of letters. It was especially common between lovers, who would meet in the morning and exchange poems. Later, poets began to write tanka together, with one person writing the first lines and the other person writing the last lines. So it's long been a social form of poetry.

The OHI was compiled by renowned poet Fujiwara no Teika in the 13th century. Teika's son asked him to collect a hundred tanka for the son's father-in-law, who was decorating a residence near Mount Ogura. 'Hyakunin isshu' means 'one hundred people, one poem [each],' hence the anthology name.
Teika chose a hundred poems dating from the 7th through 13th centuries and arranged them in rough chronological order. He wrote them out in calligraphy on screens that were used to decorate the Ogura residence.
Recent history
The OHI has continued to be influential. In 1822 a Japanese artist made a parody woodcut series called Kyōka Hyakunin Isshu – and you know something's famous when it gets parodied.

OHI tanka were also among the earliest Japanese poetry to be translated into English, the earliest version dating back to 1907.
OHI tanka are used on the card deck for karuta, a popular game in Japan. A reader announces the first three lines of a poem, and players race to grab the card with the matching last two lines, which means players need to have every poem memorized! Competitive karuta is the basis for the manga and anime
Chihayafuru.
Instructions
Find the full OHI collection, translated into English,
here
.
Skim through the collection and pick a poem that appeals to you. Whichever poem you choose is your prompt. Then, your specific challenge depends on which medium you want to use.
POETRY:
Write a tanka in response to your poem of choice. You can take 'response' however you want: whether you want to actually write to the original poet, like exchanging letters, or just use your chosen poem as inspiration.
Tanka, for our purposes here, is simply
a three-line phrase followed by a two-line phrase
. In Japanese the lines follow a syllable/mora count of 5-7-5-7-7, but this doesn't carry well to other languages for linguistic reasons, so it's absolutely not necessary to worry about syllable count.
Project Educate: Haiku, Senryu, Tanka, and Renga
contains a helpful explanation of why.
ART:
Illustrate your poem of choice with some form of traditional media. If you want to carry on from Inktober and try classical ink painting, go for it! If you want to experiment, feel free to try pencils, paint, charcoal, markers, whatever you like.
Details
Who
: Everyone is welcome to participate! Skill level doesn't matter.
When
: All entries submitted between now and Thursday Dec 7th will be featured.
How
: Post your submission to your gallery, and include in the description which poem you chose as your prompt. Then share the link or thumbnail
on this journal
.

No matter what medium you normally work in, you can try either challenge (or both.)

You're welcome to submit as many pieces as you want.

Poetry entries can be in any language. If you write in something other than English, feel free to include an English translation.
We look forward to seeing what you come up with!
Many thanks to everyone who helped with this project, from its early days up until now:
lashedcheek
,
Drerika
,
BeccaJS
,
neurotype
,
BATTLEFAIRIES
,
JustACapharnaum
,
Astralseed
, and
GeorgeXVII
.